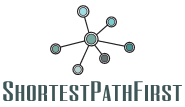 ShortestPathFirst is an information technology blog covering DDoS Mitigation and Detection, Network Architecture and Design, Disaster Recovery Planning, Data Center Design and Infrastructure Virtualization, IPv6 Planning and Deployment, Multicast, Voice and Video Convergence, MPLS and BGP/MPLS L2 and L3 VPNs, and overall Information Security best practices.
Author Bio
Stefan Fouant is a Technical Trainer and JNCP Proctor at Juniper Networks with over 15 years of experience in the networking industry. His background includes launching an industry-first DDoS Mitigation and Detection service at Verizon Business, as well as building customized solutions for various mission-critical networks. He holds several patents in the areas of DDoS Detection and Mitigation, as well as many industry certifications including CISSP, JNCIE-M, JNCIE-ER, and JNCIE-SEC.
Site Origins
The name for this site comes from Dijkstra's algorithm, otherwise known as the "Shortest Path First" algorithm, conceived by Dutch computer scientist Edsger Dijkstra in 1959. The Dijkstra algorithm is a graph search algorithm that solves the single-source shortest path problem for a graph with nonnegative edge path costs, producing a shortest path tree. This algorithm is often used in routing protocols such as OSPF and IS-IS, and modified forms of it are used in other applications, such as MPLS Traffic Engineering.