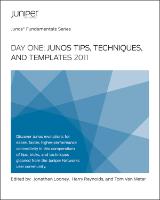 I am happy to announce that Juniper has just released a new Day One Guide entitled "Junos Tips, Techniques, and Templates 2011". For this particular Day One Guide, Juniper Networks Books and J-Net joined forces and requested the best and brightest Junos tips and techniques from the Junos user community.  In fact, the book was created after a thorough selection process which included reviewing over 300 submitted tips by over 100 individuals on the J-Net community boards at forums.juniper.net.
I am honored that Juniper accepted my contributions and decided to include them in this guide.  My contribution "Automatically Allow Configured BGP Peers in a Loopback Firewall Filter" covers how to configure a Junos prefix-list in conjunction with the apply-path features to parse a configuration and then dynamically build a list of matching prefixes for use in a firewall filter.
Outside of my meager contribution, this guide is chock full of dozens of useful tips and techniques and is an indispensable guide for anyone involved in managing Juniper platforms on a daily basis.
Junos Tips, Techniques, and Templates 2011 can be ordered on Amazon in hardcopy or Kindle edition, and is also available as a free download in PDF format. Enjoy!
I am very pleased to announce that several of my security articles have been published on Infosec Island.  Infosec Island is  an online community focused on the Infosec professional which incorporates elements of community discussion and writings from various security practitioners throughout the industry.  It is truly an honor to have been invited to participate and contribute in this forum alongside many well respected writers and colleagues.
The following articles are now available:
The Misconceptions of Sidejacking with Firesheep
Reality Check: Traditional Perimeter Security is Dead
Man in the Middle (MITM) Attacks Explained 
Several more articles are in the works and in addition I am working on a very special analysis of the XerXes attack tool used in the attacks against Wikileaks which will be released sometime next week.