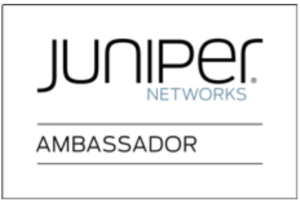 I am delighted to announce that earlier this week I was accepted into Juniper's Ambassador program. To say that I am completely honored is an understatement. Working with Juniper's products and technologies has been a labor of love for me dating back almost 18 years, since my first introduction to Junos back in early 1999 — as such, I am thrilled to join the ranks of my esteemed peers, whom I sincerely consider to be the best in the industry. A special thanks goes out to Andy Green, Director of Education Services Americas at Juniper Networks for nominating me and to the rest of the Juniper Ambassadors who apparently endorsed that nomination with a resounding yes.  I look forward to seeing and collaborating with all of you on the J-Net Forums!
…as soon as I touched Juniper, the rest was history. I loved the hierarchical interface, the ability to do rollbacks, the ability to pipe output, etc. There was just so much power behind Junos.
A link to the full announcement and interview can be found on Juniper's J-Net Forum here – Introducing Stefan Fouant – Juniper Ambassador
---
Juniper's Ambassador program was created to tap into Juniper's community of online advocates, in recognition of our contribution and advocacy of Juniper's products and technologies and to provide a vehicle to allow opportunities for collaboration and further engagement within the online community.
The Ambassador team is made up of an exclusive group of global Juniper community members who best represent the values, knowledge, and creativity of Juniper Networks. Ambassadors are highly active and knowledgeable community members who voluntarily share their real-world technical expertise, passion, and opinions about Juniper technologies through J-Net and other social properties.

— Julie Wider, J-Net Forums
More information about Juniper's Ambassador program can be found here – Juniper's Ambassador Program
Click here for reuse options!


Copyright 2016 ShortestPathFirst