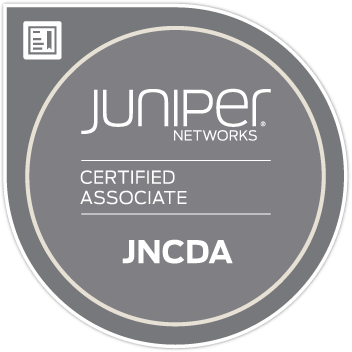 Recently I set my sights on Juniper Networks' Design track as I am working with customers on an almost daily basis with regards to Data Center design. As such the Juniper Network Design – Data Center curriculum and associated JNCDS-DC certification looked very appealing. To top that off, according to Certification Magazine, the JNCDA and the JNCDS-DC certifications are two of the top six design related certifications at the moment, as of October 2016.
Unfortunately, one can't jump right to the JNCDS-DC certification without passing the lower-tier Juniper Networks Certified Design Associate certification first. So I thought this would be a good option to brush up on my overall design related skills while preparing for the overarching goal of eventually taking the JNCDS-DC.
Much to my surprise, what I found is that this is an excellent curriculum for anyone that is regularly involved in helping shape their customer's network. Specifically, anyone involved in writing RFPs in response to a customer's requirements, or anyone wanting to "read between the lines" in their customer engagements, to really understand the business objectives and how to tailor a design recommendation to meet those objectives. In particular, I'd say this is an excellent track for anyone in a pre-sales role — whether you are an SEs, an architect, or just generally involved in some aspect with regards to crafting a response to a customer's requirements.
Overall, the exam was very easy, and at times, I found myself a little bored with the material — it's not as glamorous as getting under the hood of a box and understanding the technical details of a particular implementation, or getting into the nitty gritty details of how a particular protocol might work. But there is definite value here, especially to those who might be new to Juniper's products as it provides an excellent overview of all of Juniper's products and where they should be positioned. Furthermore, as I can attest as I now go through the Data Center design curriculum, it lays a foundation for the much more interesting advanced topics at the Specialist tier.
In preparing for this class one could choose to take the three-day Juniper Networks Design Fundamentals (JNDF). This course is designed to cover best practices, theory, and design principles for overall network design and serves as the prerequisite course for other design subject areas — data center, security, and WAN. However, my recommendation is to simply order the courseware materials on Juniper's ES Bookstore because these materials can easily be digested via self-study. The one thing you will miss out on if you take this route is that the actual class has some work sessions where you respond to mock RFPs, so this might be beneficial to those of you that would like to get more exposure to these types of activities. The courseware materials will set you back around $600, but this pales in comparison to the $2,295 you will need to spend and the three days you will need to take out of your life to attend the class. My opinion is that you'd be better served allocating the money towards the one of the more advanced classes.
After taking the exam, I realized that there are actually quite a few questions for which the answers can not be found directly in the courseware. You'll need to spend some time perusing Juniper's web site to get a further understanding of their switching, routing, and security product portfolio to have a good handle on everything covered in the exam. Furthermore, you'll be well served to get a handle on the reach of various cable types such as CAT5 vs. CAT6E, and the propagation lengths of different types of optics, i.e. SM-SR vs. MM optics.
Last, I would highly recommend taking the practice test provided on Juniper's Learning Portal. It's only 20 questions, but they are highly indicative of the types of questions you are likely to see on the exam. If you can pass the practice exam with ease, you are likely to fair well on the actual exam.
All in all, I'd give the curriculum and associated certification high marks — I do wish it was a little more difficult, but I'm expecting that the Specialist level certifications will probably gear more towards the difficulty level that I'm accustomed to. I definitely learned a few things that will help me in my customer engagements and I'm earnestly looking foward to going through the Data Center curriculum and taking the JNCDS-DC exam in the next few weeks.
Click here for reuse options!


Copyright 2017 ShortestPathFirst